Fun Party Favor Ideas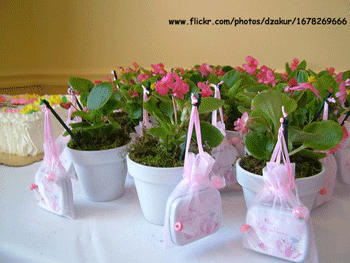 Giving away flowers is a fun and unique party favor for your guests. You can buy terra cotta pots and fill them with the flowers of your choice. Depending on the size of the pots you can get them for 40 cents to a dollar a piece. Michaels and other craft stores tend to put them on sale once and awhile, so watch for a good deal. To personalize your gift, paint them to match your event.
There are a few things that you should know before painting them. Terra cotta pots are porous and when they hold moisture it can ruin your paint job and mildew can start to grow. To help
protect your pots, spray them with a terra cotta sealer inside and out before and after painting them. You can typically find this sealer with the terra cotta pots. I know Michaels sells it for around $5 a can. Depending on the size of your pots a can should go a long way. You can also use a water based polyurethane, just make sure you can paint over it, the bottle should be able to tell you if you can. After your sealer is dry, paint the outside. Spray paint is the fastest and easiest way to get the job done; it also will turn out better than painting them by hand. Then after all your pots are painted, you can add some designs and different colors by hand. Paint markers work well for this part and don't make as much of a mess. Sponge painting the rim could also give it an added touch. When you are all done, spray them at least a few times with your sealer, letting each layer completely dry before adding your next. Now you are ready to add your flowers. You can add a thank you card in the flower if desired.