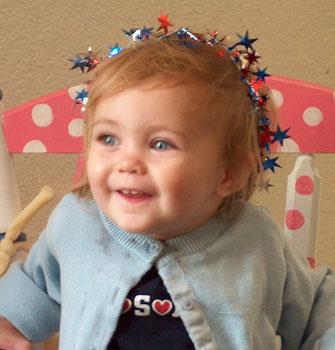 The first Birthday marks an important milestone for your little girl. Just a year ago you were getting ready to welcome a baby girl into your life, now you are chasing them all over the place. While her first Birthday party will not be one she remembers, it will be a special event for you and your family. Do your best to make this a fun experience for you and not a stressful one.
Plan the Birthday party according to the Birthday girl's nap schedule, this way you don't have a fussy one year old for her first Birthday party. Presents and Cake are best done early, before she gets too worn out.
Give the Birthday girl her own mini cake to rip apart. This is not only fun for her, it is fun to watch.
Does the Birthday girl have any siblings? If she does, keep them in mind. Especially younger children tend to feel left out for this event. Allow them to help plan for her first Birthday party and include them as much as possible.
First Birthday Party Theme Ideas for Girls
If you are looking for a theme for her, here are some popular first Birthday ideas:
Princess
Care Bears
My Little Pony
Winnie the Pooh
Flowers
Butterflies
Zoo Animals
Minnie Mouse
Dora
Nursery Rhymes
First Birthday Party Ideas and Activities
Times Capsule: Have everyone bring something to stick in a time capsule for the Birthday girl to open when she turns 18.
Build a wish Bear: Buy a build a bear at your local craft store, stuffing and red material. Cut out a bunch of hearts from your material. Your guests can write down a wish for the Birthday girl and stuff it into the bear. The wishes can also be written in a scrapbook or journal for your daughter to read when she gets older.

Slide Show: Create a slide show of the Birthday girl's first year. You can make slide shows easily on your computer and everyone can view them on your tv.

1st Birthday Signature Plate: Have your guests sign a first Birthday Plate for the Birthday Girl.
Present Ideas for a First Birthday
Mini Jumpy Castle
Rocking Chair
Rocking Horse
Hard Back Books
Simple Wooden Puzzles
Photography Session
Music Player