Ball Christmas Ornaments
To make your own baby's first Christmas ornament you will need: a glass ball ornament (found at most craft store), paint and ribbon.
You can paint the inside of your ornament, leave it clear, or add a little glitter or fake snow to the inside of the ornament.  To paint the inside of the ornament, pour a small amount of paint inside and continue rotating it until the inside is covered in paint.  As the inside of the ornament dries, rotate the ornament every few minutes, this will make sure you don't end up will a pool of paint inside.  When choosing paint, make sure that it can be used on glass surfaces.  Some paints will not attach to glass very well.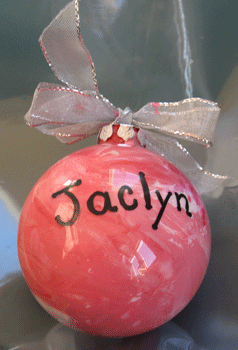 Next, personalize the ornament with your baby's tiny foot or hand print.  Footprints are typically easier to pull off, since you have more control over them.  You can use paint or water slip decals.  Water slip decals are a fun and different way to add images to glass.  If you are using water slip decals, you can scan your baby's hand or footprint and then print it out on the decal.  To learn more about water slip decals, see water slip decals.
After your have your ornament perfected, add some ribbon at the top and hook.